At Mercury Tennis Club we offer coaching for all levels. Have a read through the profiles below and talk to any of the coaches if you are not sure on how to proceed.

Head Coach
Danny started playing tennis at the age of 11. Danny is a former ATP world ranked player in both singles and doubles and was ranked within the British top 20. Since turning 35, he competes on the ITF Senior circuit. He has achieved a world ranking in the over 35s category of 5 in singles and 20 in doubles and is ranked number 1 in Great Britain playing 10 years below his real age group. These achievements saw Danny represent Great Britain in international events. Danny has experience of coaching juniors and adults of all standards, from beginners to performance players. In 2005, he co-founded The TennisMania Trust, a charity to help promising juniors to fulfil their potential and to offer more opportunities for both juniors and adults from all backgrounds to play tennis. Danny is a CCA, LTA qualified coach. He can be contacted via
mobile 07921 675206
or
Email cdkward@hotmail.com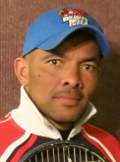 Sebastien is RPT qualified with over 30 years of experience as a tennis instructor around the world (France USA UK...) Seb strongly believes that the key in coaching tennis is the ability to make students feel good about themselves as well as giving them the tools to play the game within a short period of time and this regardless of age level ability and ambition. Seb is comfortable teaching beginners and advanced players of all age groups. Seb has competed in singles and doubles in the top middlesex tournaments and leagues but also in the national club league in France, he can be contacted at
Sebbytennis@gmail.com
Ryoko Yomoda started playing tennis at the age of 4, won three national university tournaments and achieved rankings of 81 in singles and 54 in doubles in Japan.
She also played competitively in the US and was the finalist of national junior college tournament in singles. She has over 15 years experience of coaching adults and children of all ages and different ability; from beginners to the more advanced competitive players.
She now competes ITF senior tournaments and the best ranking is 11th in singles, 9th doubles and 6th in mixed as well as representing Middlesex in senior county events. She can be contacted via mobile 07538595410
Ros Edwards began playing tennis at the age of 10. She has been involved with the organization of tennis at a club level for over twenty-five years and, as a player, has won numerous Middlesex and National events. Ros has also represented Middlesex. Her publishing experience enabled The TennisMania Trust, which she co-founded, to translate and publish Mansour Bahrami's autobiography THE COURT JESTER in 2009 in order to help raise funds. Ros enjoys coaching beginners to county standard players and is a PTR qualified coach. She can be contacted via
mobile 07921 675371
or
Email eTennisMania@aol.com
Note: We operate a 24 hour cancellation policy at Mercury Tennis Club. If a lesson is cancelled within this timeframe, full cost of lesson is payable.